Follow These Checkpoints Before Investing In POS Billing Software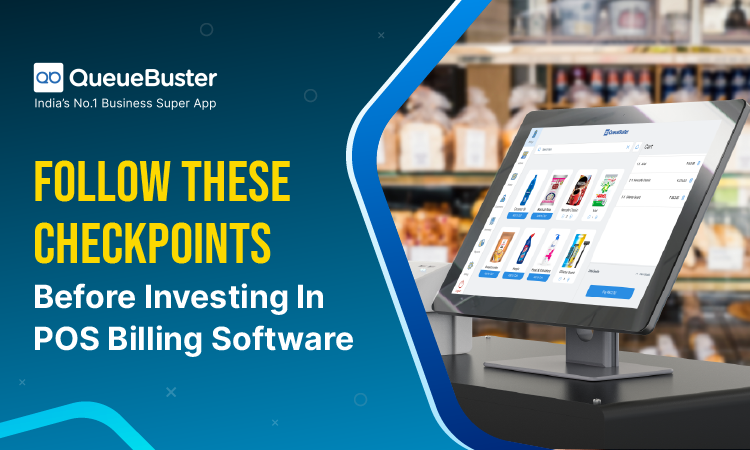 Investing yields rewards; spending does not. The POS investment will increase sales and profit for your business. Choose wisely while investing!
There are hundreds of retail store POS vendors since the demand is so high among retail stores. But do you know unfulfilled marketing promises from those not-so-reliable vendors may result in regrettable POS adoption and a string of financial and professional issues?
Research is a business's homework as it searches for the ideal POS. Keep in mind that only the appropriate investment will yield profitable results. Queue Buster has come up with a blog for all who are looking for retail store POS. Follow these checklists.
1. Selecting The Proper POS
Your company's requirements may change depending on its size, daily foot traffic, outlet connections, etc. The platform that best serves your needs should be reflected in your chosen POS.
If you want an internet-free operation, a one-time hardware investment, don't want to pay for remote storage, require customization, and have the budget to set aside time and resources for a patch or version upgrades due to 24-hour operation, you should select on-premise POS.
If you want continuous, real-time multi-outlet integration, all-time location-unrestricted access, zero hardware maintenance, real-time store statistics and data, storage scalability, a reliable internet connection, and real-time data sync, you should go with cloud POS.
Making timely notifications, reports, and business insights possible with real-time data sync.
2. To What Extent Does The POS Automate Operations?
You should concentrate on the functionality you require now that the POS platform has been selected for your retail store. It would be a nightmare to manually consolidate and grasp your activities to assess profit and sales.
That ought to be handled by the retail store POS! With connected departments, you must determine whether the retail store POS can convert all data.
Are you considering a POS that complies with your nation's legal requirements? A POS system with integrated accounting software that automates bookkeeping and records all incoming and outgoing transactions.
You must sell products properly if you want to properly manage your inventory. The need to find a point-of-sale system with little inventory management of a variety of things, including kits, assembly, demo items, retail consumption stock, broken stock, and more.
For a reliable tally between sales and accounts, the POS should have tools to monitor all of them.
3. Does The POS Offer Prompt Assistance?
For your staff to use the POS flawlessly, guided installation is crucial. A happier workplace and workforce depend on people adopting technology with ease. Even at midnight, you may ask the POS supplier for live chat and audio help for questions and problems.
You ought to be able to submit tickets for your problems and receive updates on their progress.
Avoid purchasing a static POS system since neither development nor support is offered. You'll undoubtedly regret it afterward. Select a POS that is routinely optimized in terms of technology and is in line with shifting market trends.
Get a retail store POS from QBuster that was not created to get the charges from retail stores, but rather to expand your business! Schedule a demo here.
Static software should be retired. With new technological advancements in the software industry, programs and interfaces must be optimized. A POS that seeks bug-free status is continuously evaluated for quality and degeneration.
4. Can The POS Make Decisions Based On Your Data Or Plan Ahead?
Data is baked, and insights are given by a good POS. What quickly sells, and what rots on the shelves? Which vendor offered the best discounts? Which client contributed the most?
Which retail location generated the most sales? You can read between the lines with a good retail store POS. With the use of such insightful analyses, you may select the ideal outlets, lucrative consumers, profitable suppliers, and priority items. Can the POS provide insights from data, ask the POS provider.
5. How Precise Is Your POS Security?
Data is the new oil, as the saying goes. The hierarchy of access levels, data access authentication, ransomware assaults, and backend security breaches must all be protected by your suggested retail store POS.
Your accounts data is required for carefully reviewing accounting records for audits. To grant restricted access to particular roles or users, POS systems for businesses must be configured with customizable access level hierarchies.
To stop cyberattacks, software systems are created with security barriers. They adhere to paradigms that help create security barriers that protect your data from online threats on both the front and back ends.
The ability of the code to prevent access to the data and code is what matters most at the backend. The POS may employ front-end security verification methods, including captcha, password, and biometric authentications.
6. Can You Rely On And Trust The POS?
How can you ensure the POS supplier keeps their word now that you know what to look for in your POS? You need to examine their credibility at that point. Examine the POS's certificates.
POS systems are accredited based on factors such as product security, market standing, and technological effectiveness. Look into the organizations that have granted POS provider certifications, medals, and awards.
7. Are There Extensions For Business Excellence In The POS?
Any POS would be sufficient if your only goal is to stay in business. However, if you want to be successful and grow your business, you need a POS system with revenue-boosting add-ons that increase sales margins and handle all aspects of operations.
A business has to be given the proper treatment at the right time to succeed or maintain success. And as a result, your information about the audit, accounting, sales, stock-out, purchasing, operations, security breaches, and other important aspects of your company.
To get a better understanding of how the retail POS system works and whether it meets your needs, consider requesting request a demo from the QB. This will allow you to see the system in action and ask any questions you may have.
8. How Adaptable Is The POS Given Your Present Tools?
The POS is where your customer's engagement with you ends. Thus, it should be the least hectic part of their buying experience.
Therefore, downloading invoices manually from your billing program and uploading them to the POS at the billing counter is not an option. What is the remedy? Possess a POS that automates and integrates!
The retail store POS should require adaptation enough to function with e-commerce, payment, and loyalty integrations from third parties.
Let's Conclude
If you're still unsure about whether a particular retail store POS system is the right fit for your business, consider scheduling a demo. This will allow you to see the system in action and get a feel for how it works before committing.
Once you've narrowed down your options and are ready to make a purchase, request a quote from the provider to get a better understanding of the total cost of the system. This will allow you to make an informed decision and ensure that you're getting the best value for your money.
By following these checkpoints, you can make an informed decision about the retail store POS system that is best for your business. If you have any further questions or would like to request a demo, don't hesitate to reach out to QueueBuster.
References
Popular Posts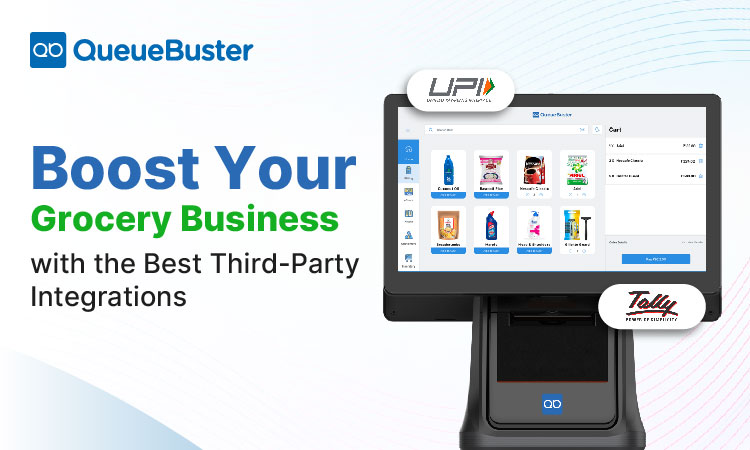 Boost Your Grocery Business with the Best Third-Party Integrations
As a grocery store owner, it is essential to seek ways to […]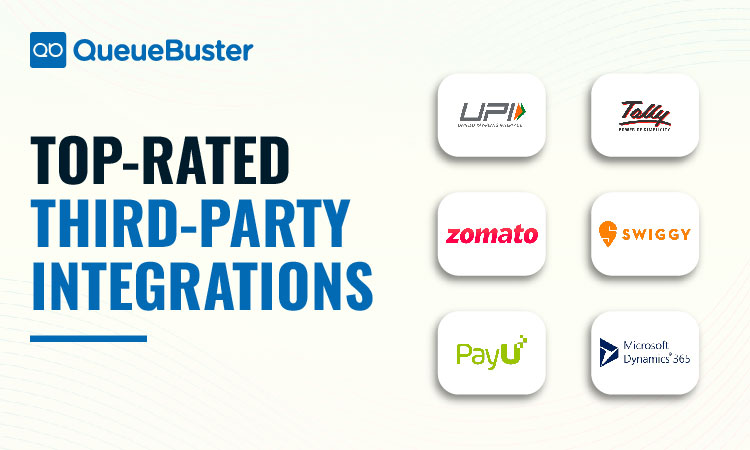 Top-Rated Third-Party Integrations in Retail POS
Staying afloat and standing out as a retail business in the 21st […]