How to Send Receipts to Customers via Sms/Email with QueueBuster?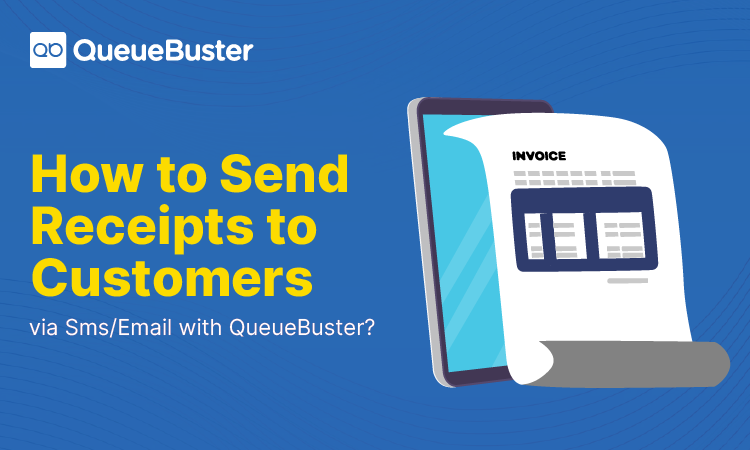 Due to public health concerns, it is essential to offer safety precautions while serving customers, and staying in business. Businesses must adhere to social distancing norms while also adapting the in-store experience. Contactless eating is one such invention.
The goal of contactless eating is to reduce customer contact while providing high-touch aspects. Contactless eating is now the ideal choice for customers seeking the highest quality of safety and service. Restaurants are strengthening their order systems to assure delivery in light of the pandemic.
In this blog, we will see how contactless operations can be promoted in a business with the help of tools such as QueueBuster pos software, QueueBuster invoice management, Queuebuster order management, and much more.
QueueBuster POS Billing Software will cover how businesses like restaurants may implement contactless dining by selecting the best restaurant POS Systems. The following are some of the benefits of switching to contactless eating in restaurants:
By enforcing personal cleanliness and no-contact eating at particular hours, the restaurant assures the ideal safety and health standards. Contactless eating provides staff and customers with the assurance that the whole dining experience is contactless, minimizing the risk of infection transmission.
QueueBuster billing software eliminates bill books and paper menus by managing the e-menu to benefit both customers and the business. Menu pricing and items are instantaneously modified across outlets with a mouse click. Customers are also relieved of the inconvenience.
Customers may now make orders instantaneously owing to this technology; since servers are no longer necessary to manually put orders, human mistakes can be reduced. QueueBuster order management assures on-time delivery and boosts order accuracy.
The whole ordering cycle is digital, from ordering meals to paying the bill, decreasing the need for human interaction significantly. Restaurant personnel can concentrate on upselling, cross-selling, and ensuring that the correct orders are delivered to customers promptly, which is a huge benefit.
Customers may place orders, lowering total table turnover time since employees are not required to help the customer. Order sizes and accuracy are increasing, but server response time is decreasing.
QueueBuster invoice management lets customers pay immediately inside the application using credit cards thanks to the user-friendly contactless payment option. This lowers operating expenses by making it simpler to maintain a contactless ordering system with a few servers. Employee efficiency improves, as does customer pleasure.
Benefits of Paperless Billing
The paperless billing feature in QueueBuster billing software allows customers to easily view, pay, and keep invoices. Additionally, e-billing allows customers to settle bills immediately online rather than mailing a payment or visiting a customer care centre. Customers may also view the payment history without having to deal with paper clutter at home.
Spending Less Money: Traditional paper bills need a steady supply of paper and envelopes, as well as time spent entering into many websites to make payments. Paperless billing cuts expenses and enhances productivity for both small and big enterprises. With so many paper transactions in daily business operations, electronic bill statements are one fewer piece of paper to remember each month.
Convenience on the Move: Customers may instantly view their bill from their email inbox rather than waiting for a printed bill to arrive in the mail. Paperless billing accommodates customers' hectic 24/7 schedules and reduces stress.
Security: Many customers prioritise security when it comes to paperless billing advantages. How is their data kept safe? What purpose will it serve? While digital solutions have their own set of issues, the reality is that paper statements are not without risk of fraud. Messages may be intercepted, misdirected, or end up in the wrong hands, exposing sensitive account information or even payments.
Paperless billing, on the other hand, addresses these issues by instituting security methods and protections for customers' login information. Even if invoices or account information is sent, they will never include complete account information, providing additional security if a customer's email is hijacked.
QueueBuster billing software provides all such benefits of paperless billing and also generates proforma invoices, final invoices, credit sales, and no-charge orders. It allows business owners to accept payments through cash, card, online wallets, UPI, vouchers, credit notes, and cheques. Making the billing process a way simpler and more secure. 
Here are a few steps to take to choose the best POS for your business needs:
Consider the Information Users Require
Data empowers users to capitalize on opportunities, make educated decisions, and avoid costly mistakes. Users should define the data they need to govern their business, in the same way, that they establish their business operations and objectives.
Users must understand what information is available at the end of each day, month, or year. What information would they want to have? Determine which retail KPIs are critical to them and ensure that the reports on their POS system reflect that information.

QueueBuster pos software considers data other than what users need to run day-to-day operations, such as customers' online and in-store purchase histories or which products account for the maximum (and smallest) share of sales.
Make a List of the Company's Operations
Identify the most vital corporate duties and what the POS System needs to complete before users begin browsing for POS solutions. If they're presently using another POS system and thinking about switching, make a list of their issues and the POS features that might help them solve them.
Think about where users want their business to be in five to 10 years. What technologies are needed to make this possible? Thinking about this ensures that users choose a high-quality POS system like QueueBuster POS software that will grow with their business as its needs evolve.

Determine Which POS Hardware Users Require?
Users may start thinking about POS hardware after they've determined the payment methods they'll accept. While the majority of POS providers would happily take consumers through their hardware options, they should have a general idea of what they need ahead of time.

Choose Which Payment Methods Users Want to Accept?
Think about what payment options their POS system must allow. How would users want their customers to pay? Mobile wallet usage has surged in the wake of the pandemic, in addition to the most common payment methods (cash, debit, and credit cards). Today, 64% of shoppers polled use mobile wallets to make purchases, up from 38% in 2019.

When selecting the best POS system, make certain that it allows the most important payment types and that its payment processing costs are within its budget. Like the QueueBuster POS app which accepts payments through cash, card, online wallets, UPI, vouchers, credit notes, and cheques. 

Compare Different POS Systems
Users are ready to hunt for a POS provider now that they know precisely what they need to support their business today and in the future. Investigate review sites, talk to other businesses, and find out which POS systems are utilized by firms that users prefer. Visit each POS provider's website to learn more about their services.
Once users have whittled down their options and want to see how their POS system works, they may sign up for a free trial to see whether it meets their needs. Users may use the free trial. They can then evaluate the features and ease of use before making a monetary commitment.
Make contactless service easy for our customers by deploying QueueBuster POS app, a high-quality full-stack POS application to manage the billing, inventory, khata, online dukaan, customers, loyalty & more. Speak to an expert at QueueBuster for more information regarding the solutions that best fit your needs.
Popular Posts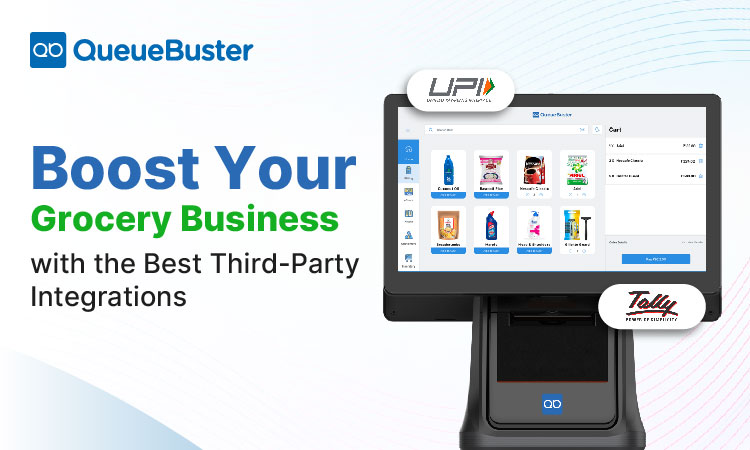 Boost Your Grocery Business with the Best Third-Party Integrations
As a grocery store owner, it is essential to seek ways to […]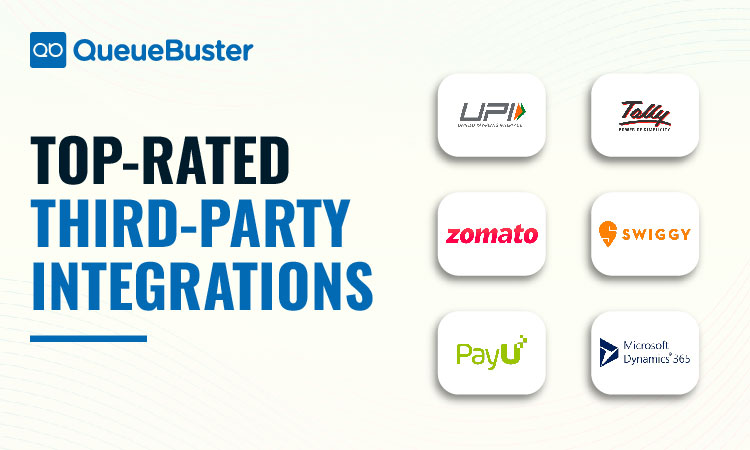 Top-Rated Third-Party Integrations in Retail POS
Staying afloat and standing out as a retail business in the 21st […]